Giving dogs outlets for barking, digging, chewing, dissecting, humping, and counter surfing results in a more relaxed dog and less naughty behavior. And by happy coincidence, this also results in happier, more relaxed owners. These techniques will also serve us well when our dogs start spending time alone again.
Work to Eat
Toys that are labeled treat dispensers should be labeled meal dispensers. Here are my favorite puzzles and bowls for keeping your precious nugget busy and slowing down their consumption.
Tricky Treat Ball by Omega Paw was one of the first work to eat toys for dogs and is still my favorite. Galen really enjoyed his when he was a puppy. Just don't get water inside the hole.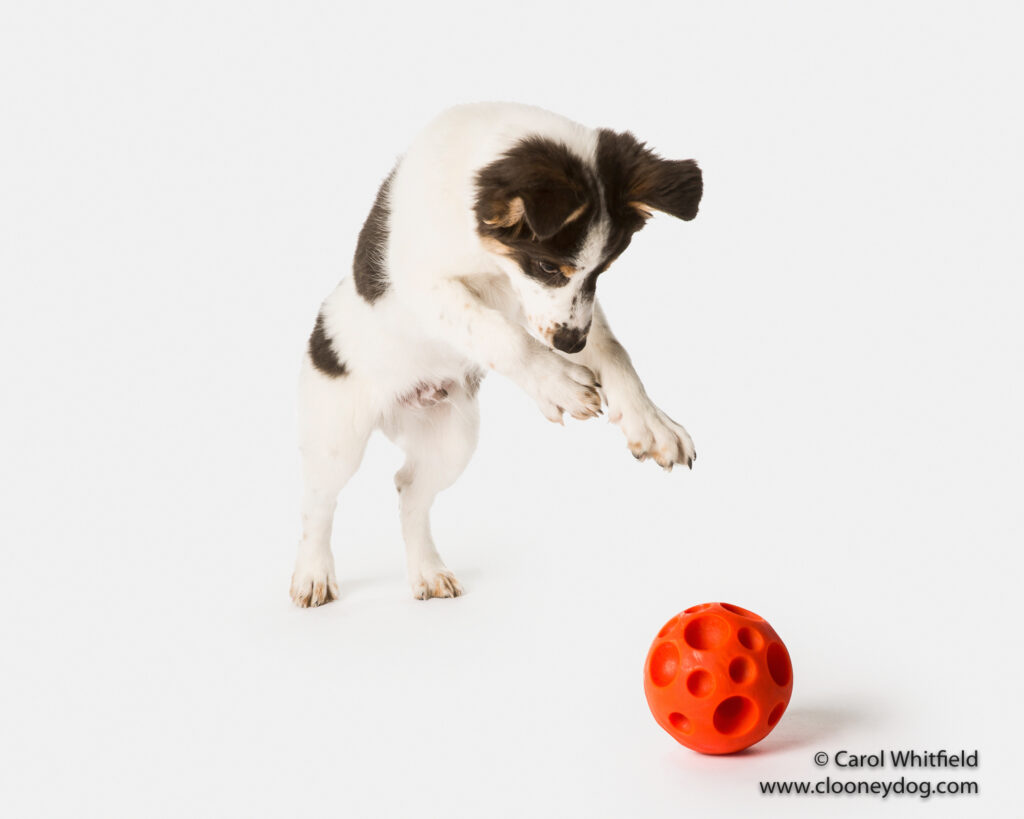 Bob-o-Lot by Star Mark is another one of my longtime favorites.
Slo Bowl by Outward Hound Kyjen was a game changer for me. Our dog eats when we do, and having a food bowl that slowed him down made keeping him on his mat at meal times much easier.
Kongs, glorious Kongs are my go to for so many situations like crate training or trips in the car. I fill mine with canned food and once the dog gets used to eating out of them, I fill them and then freeze them. Enjoy.
Trick Training
Emily Larlham's Kikopup YouTube channel made her famous, but if you're feeling a lack of creativity in your own trick training, try these on demand videos by Emily: The Art of Trick Dogging or 101 Ways to Think Outside the Box.

Digging Pit
I built Galen a digging pit when he was a puppy and he dug right next to the thing. That's why you might want to hide treats and toys in your pit like I had to. That should make your dog want to dig there again. Supervise your dog and lure them back to the pit in the beginning. Go out on your own and restock the digging pit so there's always something to find. I use this technique for scent training too. When will Galen find a truffle anyway?
Tug and Flirt Pole
There's a lot of DIY information out there about braiding your own tugs, and making your own flirt poles. Tug is most useful for teaching your dog to be careful with their mouth, and flirt pole is fantastic for leave it training when done well. I love when I get a two for one.
Chews
Stuffed Kongs are the safest and most economical solution, but where would the world be without other options? Here are the Pros and Cons.
Bully Sticks are yummy and dogs love them. The cons are that they don't last very long for most hard chewers, and dogs should be supervised to ensure they don't choke on that little nugget of bully stick they get down to. They're expensive and kinda smelly so there you are. What we do for love.
Himalayan Chews are safe, environmentally friendly, and fall somewhere between bully sticks and deer antlers in terms of yummy factor.
Antlers are safe, even for super chewers, and last nearly forever. The big con with these is most dogs aren't that interested in chewing on them.
Raw bones are safe, nutritious, and most dogs love them but raw bones? Seriously messy. That's why I train dogs to stay on their mat when they have a bone. That, or take it outside.
Get Creative!
Food dispensing machines give us so many additional options for enrichment and training. We use primarily the Treat and Train, but for barking problems, the Pet Tutor is more effective.
Freeze treats like bits of jerky and cheese in water or chicken broth for a summer cool down dogcicle.
Scatter your dog's kibble around the yard then let them out to hunt down their dinner like the self respecting predator/scavengers they are, or are supposed to be anyway.